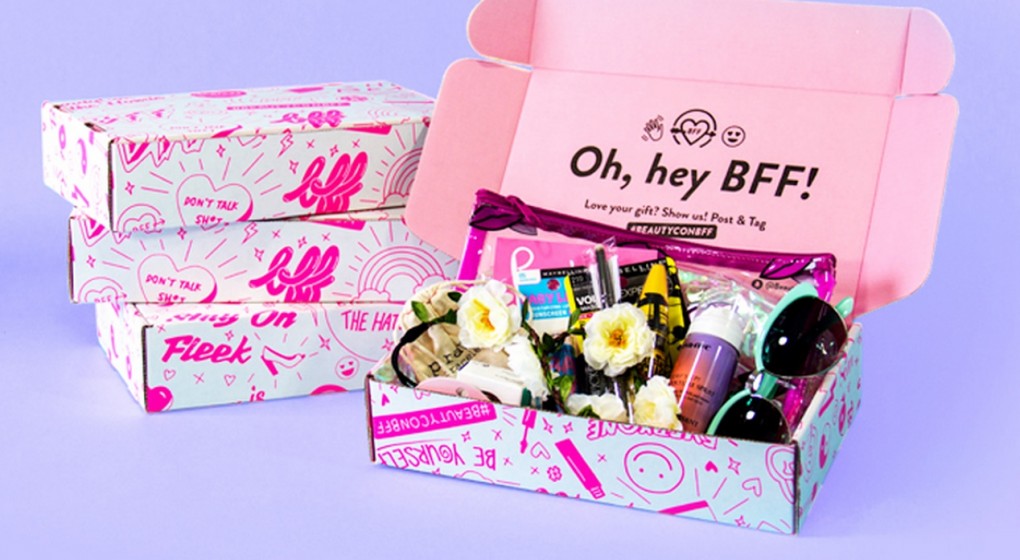 Beautycon Media has announced the launch of a $99 subscription service for a quarterly beauty box called Beautycon BFF. The four boxes that customers receive annually are themed around winter, spring, summer and fall. The contents are contributed by brands and selected by the celebrities chosen to speak at Beautycon festival sessions. Each box will also include chances to win prizes like a shopping spree with or birthday tweet from a YouTube star.
The first box was released in October. The initial box contained products  from Beautycon's in-house brand; Benefit and Maybelline, as well as some chosen by musician JoJo. The box also features Puravida bracelets, flower crowns, mascaras, and flash tattoos.
With the subscription service, Beautycon can reach fans all throughout the year, as well as reach people who can't make it to the events. Exclusive Beautycon brand products, full-size products and the social media-celebrity involvement seems like a great deal for the $99 annual subscription fee and may set the BFF box apart from competitors, like Birchbox and Ipsy. Fans can sign up for the service through the Beautycon Media lifestyle and beauty website.
Founded in 2013, Beautycon is an annual gathering for brands and Internet celebrities in the beauty industry. Over 9,000 beauty fans attend the festivities, participating in Q&A sessions, securing free samples, and visiting booths set up by some of the biggest names in the beauty industry. The event was founded by entrepreneur Moj Mahdara and takes place in New York, L.A., London and Dallas.
Beautycon NYC was held earlier this month. BeautyCon NYC, hosted at Pier 36, featured a number of YouTube personalities, including Bethany Mota, Baddie Winkle, Nikki Phillippi, Fleur De Force, and Gabriella and Niki DeMartino. Their popular YouTube makeover tutorials have made the hosts social-media celebrities. JoJo, songstress behind the classic "Too Little Too Late," also hit the stage to perform.
Beautycon L.A., had nearly 300 million impressions on social media and a reach of 135 million, making it the largest event this year. In 2013, it had 15 million impressions and a reach of 7 million. The event's hashtag trended worldwide during the festival. On Facebook, Twitter and Instagram, more than 60,000 posts were shared about Beautycon L.A. Beautycon data showed that reach was driven by YouTube and Instagram stars sharing the hashtag.