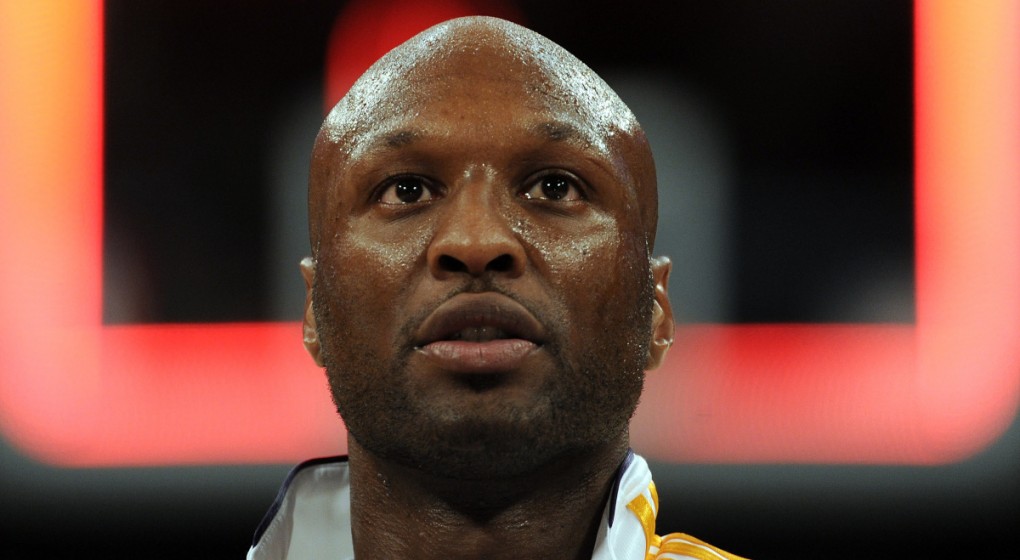 Lamar Odom has been deemed well enough to leave the Las Vegas hospital where he was rushed after being found unconscious at a Nevada brothel last week. However, he faces a long recovery process before he can once again be deemed in good health. The former Los Angeles Lakers player was discharged from the Sunrise Hospital & Medical center Monday evening and transported to a Los Angeles-area hospital by helicopter to continue his recovery.
Lamar Odom's transfer to L.A. was dependent upon his condition remaining stable. He was reportedly in a coma for days before awaking to see his estranged wife Khloe Kardashian at his side. Reports are now saying that he can speak in full sentences and is able swallow and eat food on his own.
Lamar Odom is still being treated for aspiration pneumonia and he is still on dialysis due to kidney failure. While he is able to move his arms and legs, he is not able to stand up, even with assistance. The athlete is no longer wearing an oxygen mask and his breathing is improving, but the reduction of oxygen in his body lasted so long that there may be some cognitive issues to deal with. The reports say that Odom's health is improving day to day, but he is going to need a lot of rehab in the coming months.
Lamar Odom is a former high school basketball star who went on to win two N.B.A. titles with the Los Angeles Lakers. His private struggles with relationships and drugs were played out on reality television for the whole world to see. He married Khloe Kardashian, already a reality TV celebrity, a month after they met. Their marriage and its demise were chronicled for the masses on her show "Keeping Up With The Kardashians."
Many of the people close to him feared that something like this would eventually happen to him. When he was traded from the Lakers to the Dallas Mavericks in December 2011, his friends said that he took it hard. The estrangement from his wife over his partying habits also contributed to his downward spiral. In August 2013, he was arrested on suspicion of drunken driving and allegations of drug use have surfaced repeatedly. When he was found unconscious in a Nevada brothel, few who knew him were surprised, but all were saddened.